image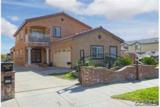 <a href="http://www.mainstreetgroup.com">Covina Home For Sale</a>

The front building is a Single Family Home, Owner Occupied that is about 2,782 sq ft that consists of 6 bedrooms and 3 bathrooms with 2 car garage. This front house was built in 2007. The rear units consisting of 2 units built in 2009. These units are townhouse style having 3 bedrooms and 2 bathrooms. All units have 2 car garages with additional parking on the lot. Property is centrally located near to schools.
Commentaires
Ajouter un commentaire
S'il vous plaît connectez-vous pour pouvoir ajouter des commentaires !